New Delhi: Jawaharlal Nehru University, New Delhi World Urdu Association's proud presentation of 'Razmiya literature in Urdu, Arabic and Persian' was inaugurated. This book is a documentary in Urdu, Arabic and Persian. In view of the lack of content on epic literature, the World Urdu Association organized the International International Seminar in January. The dissenters wanted the association to publish a book on this important topic soon.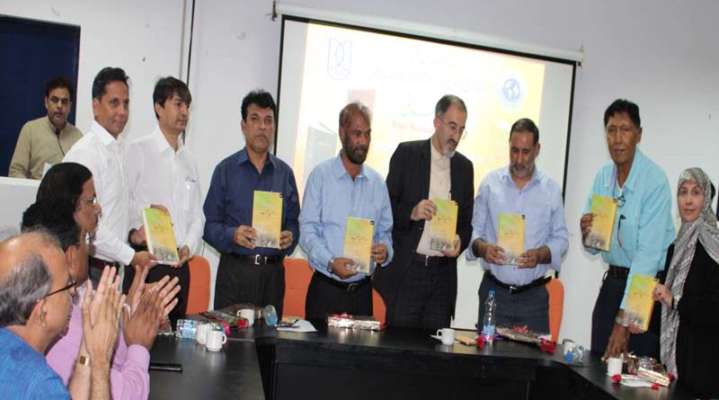 The chairman of the association, Prof. Khwaja Muhammad Ikramuddin, prefaced this important work and drafted and documented an important documentary book like 'Razmiya Literature in Urdu, Arabic and Persian'. Prof. Khawaja Ikram welcomed all the delegates by presenting the reception at the function.
The title of this book was given by Dr. Ehsanullah Shkrallahi (Iran) Professor Anwarpasha, Professor Mazhar Hussain Mehdi, Professor Khawaja Muhammad Ikramuddin, Dr. Tawheed Khan, Mr. Fahim Akhtar (London), Dr. Farzana Azam Latifi (Iran) Dr. Ali Raza Qaza (Iran) ). Addressing the ceremony, Dr. Ali Raza Kazuva discussed the ancient history of Persian in India and said that the ancient language of India has been Persian.
The Culture House is here to provide all kinds of support. Addressing Dr Ehsanullah Shukrallahi, the book said that the importance of this book will become Muslim because it will benefit Urdu and Persian alike. Dr Farzana Azam Latifi said the World Urdu Association's proud offer is truly a proud offer. From this book, the Indians will take the feast together.
Mr. Fahim Akhtar said that the Association had made a commitment. With great hard work and perseverance, Professor Khawaja Ikram has presented the book with a beautiful and vigorous case that will surely play a vital role in shaping the aims of the Association. Speaking on 'Epilogue Literature in Urdu, Arabic and Persian' Professor Khawaja Ikram said that the book covers the keynote address and thirty-eight articles on various aspects of the Epilogue literature, which will cover many aspects of the Razam literature.
Speaking on the occasion, Professor Mazhar Hussain Mehdi, while addressing the function, said that we all feel the lack of content in the epic literature. The efforts of the World Urdu Association and Khawaja Sahib will help to compensate for this shortfall. In the end, the second president of the ceremony, Prof. Anwarpasha, spoke thoroughly and thoroughly on all the points of 'Razmiya literature in Urdu, Arabic and Persian' and thanked all the delegates and participants from JNU, saying that this book was Razmaya literature.
Will prove to be a milestone in the history of Dr. Kazim thanked all the guests on behalf of the Association and expressed their best wishes. The program was organized by Dr Shafi Ayub. Dr. Tohid Khan, Prof. Ajmer Singh Kajal, Dr. Ram Chandra, Dr. Shivaprakash, Mr. Rati Lal Kali Das Verma, Ms. Mohani Sangwan, Mr. Om Prakash Sangwan, Ms. Kanta Ben Verma, Dr. Mahesh Noor, Shadab Shamim, Amir. Besides, there were a large number of Urdu, Hindi, Arabic and Persian scholarships.